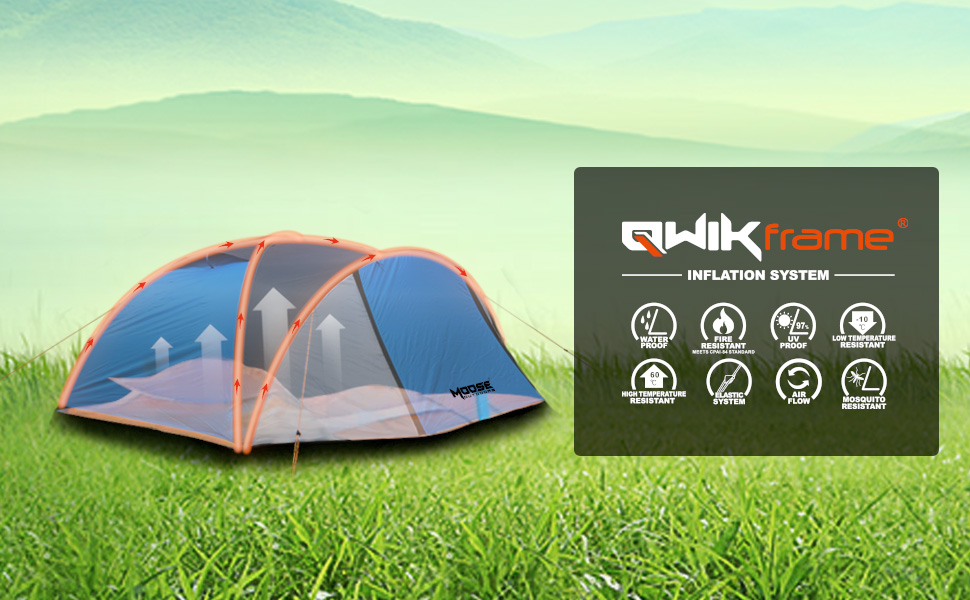 Moose Outdoors is a company dedicated to creating superior products for families and outdoor enthusiasts. We focus on delivering quality workmanship and an exceptional customer experience with each of our products. Our industry-leading QwikFrame feature is the proud result of innovative technology development and advancing design. Integrated inflatable pillars work together to deliver the fastest and easiest pitching experience for your tent. Simply unpack, inflate, stake for security, and enjoy your time!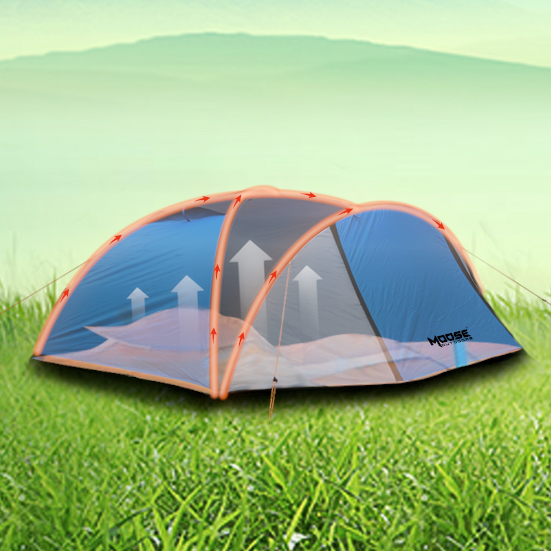 QwikFrame Technology
Our industry-leading QwikFrame technology is innovated by Moose Outdoors and designed to make set-up fast and easy. This frame makes inflation quick! Only three minutes from unpacking to ready! Our QwikFrame increases functionality while making assembly a breeze! It takes much less time than traditional steel pole assemblies. While it may seem like a minor convenience, our quick set-up time means a lot during a bout of bad weather.
Comfortable Inside Space
Our tents are designed with 4 people in mind. We have a large capacity, but also prioritize comfortable living space. This tent includes a covered sun-shade area that makes a great place to relax or and store camping gear and belongings. A perfect size tent for family gatherings, picnics,backpacking, backyard camping and more.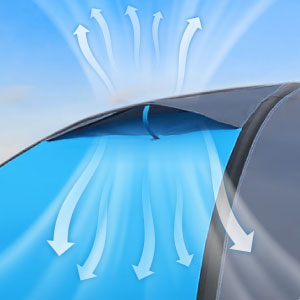 Air Flow Technology
Our specially designed air flow technology creates cool air circulation inside your tent. This feature keeps the interior cooler during the day and warmer during the night. The tent is designed with two riser vents ensure fresh air comes in and out. At the same time, the vents are reinforced and covered and to prevent any water leaks.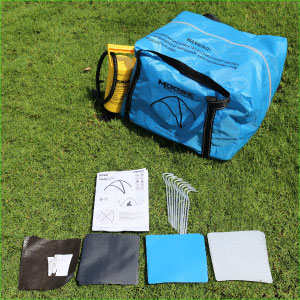 Value Packing
Moose Outdoors 4 person tent includes tent, an air pump, carrying bag, instruction sheet, tent stakes, and extra patches. One package includes everything you need to set-up your tent. The carrying bag is convenient and allows you to easily bring everything with you.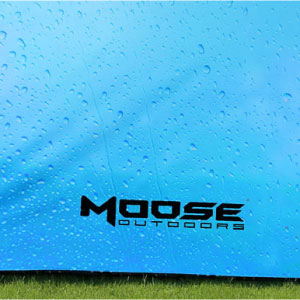 100% Waterproof
Our 100% waterproof tent is made of high quality materials with industry-leading Ripstop technology. Each tent is designed with a built-in groundsheet to prevent insects, pests, or soil moisture from disturbing your rest. Sleep peacefully in nature without worrying about small critters who might interfere!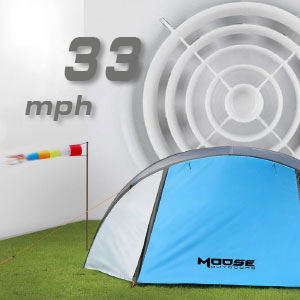 Strong Windproof
The same superior Ripstop technology that prevents rips and tears also ensures our tent is windproof at 33 mph. The tent is securely fastened by 6 included stakes to ensure stability. Additionally, QwikFrame Technology provides even more stability than traditional steel poles. Our strong tent frame is ready to protect you from windy weather.

Best tent ever
David Scot 9/6/2018
This is a great family tent for panic and backyard camping. My kids love it and perfect size for a small family. It stood up to some reasonable strong winds and kept cool in the midday sun. Highly recommended!!
Great Solid Tent
Andrew Newton 9/5/2018
Ideal tent for me. Easy enough to set up within 3 mintues.Simply inflated it and ready to go.
Sturdy, spacious and solid
J.Naylor 8/5/2018
Fantastic tent. We've been in this tent in torrential rain and wind and didn't experience any leaks, sturdy frame meant that it held its own in the wind. This tent is spacious and easy to assemble, exactly what we wanted.
Very easy to set up
Travic Coltman 9/1/2018
This tent is take less time to set up than the pole tent. It's only take few minutes to get ready and can be done by one person easily. It mean a lot to me when a single dad who taking care of two children. The easy assembly steps allowed my children to help out to set up and such a great family time with them.
Does what it said
A.GEE 8/31/2018
The inflatable tent does what it said exactly in the description. It's solid and feel much stronger than traditional tent. It mean a lot when I was camping at suburb with unpredictable weather.
Great gift to my boyfriend who love camping
Rosie Brown 8/20/2018
I purchased this tent as a birthday gift to my boyfriend. He is a camping fans and he owns many of different tents. I was doubt if he like it at first but yes, he loved it. He said it's amazing and much convenience compare to the traditional tent.